Incorporates isolated DC/DC converters & hold-up capacitors to operat during short power failures, outputs are protected against short-circuit & thermal-shutdown.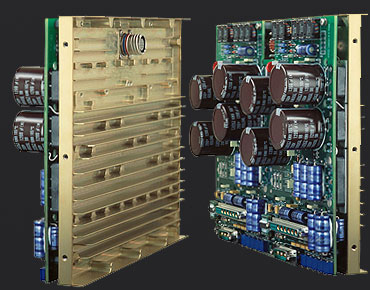 PSUs are fitted with; Power Fail Monitor, MIL-STD-461E power filter, DC remote voltage sensing, output voltage trim-up, time-delayed protection fuses, rear fan EMI-filter & fuse and DC/DC converter remote shutdown.
PSUs are attached to the chassis rear panel to provide conduction & convection cooling. Forced air dissipates heat generated by the PSU as air passes over the rear panel fins (except FAC/S/SEF models). Heat is also dissipated via thermal conduction to the chassis frame.